ARCHERY & 3D Archery Range
The outdoor archery range is covered by a pavilion and is equipped with up to 40 shooting lanes. Target backstops are available at various distances.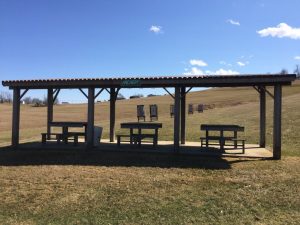 ARCHERY (A) RANGE RULES
PERMITTED

BOWS OF ALL TYPES: COMPOUNG, RECURVE, LONG, ETC.
CROSSBOWS
FIELD OR TARGET POINTS ONLY
BROADHEADS PERMITTED ON 20-YARD (LEFT) TARGET ONLY

REMOVE TARGET COVERS BEFORE SHOOTING; REPLACE WHEN FINISHED.
NO HANDLING OF BOWS/CROSSBOWS

FOR ANY REASON

WHILE SOMEONE IS IN FRONT OF FIRING LINE.
ALL SHOOTERS MUST BE ON

SAME FIRING LINE

.
NOCK ARROWS/BOLTS ONLY WHEN ALL SHOOTERS ARE READY.
General Range Rules
Outdoor shooting hours are Mon – Sat 8 a.m. till sundown, and on Sunday from 12 noon till sundown. There is no shooting on Sunday before 12 noon. Shooting must cease at "sundown" as defined by the PA Game Commission. Times are listed near the ranges on the message boards, on the website, and in every newsletter. Some sanctioned Trap activities extend past sundown to include shooting under the lights.
During all Trap events, the lower rifle range (R3) is closed. The upper rifle range (R1) is open.
The mowing contractor always has right-of-use when he works on a range. The range will be considered cold while he is working; firearms must remain unloaded and untouched until he leaves the range.
The following are not permitted on any range for safety reasons: .50 cal BMG-type firearms, and tracer rounds. A fully auto firearm, legally licensed, may be fired in semi-auto mode only. To fire in full-auto mode, written and signed permission for each one-time instance must be obtained from the Executive Committee.
All shooters on the ranges must wear ear and eye protection. Any spectators near the firing lines must also be protected. Always be courteous to fellow shooters by ensuring they are aware when shooting on your line will begin, as well as the anticipated direction/location of your ejected shells.
Shooting on all ranges is to be done at appropriate paper or cardboard targets only. Targets should be placed on the chicken wire using clothes pins and not on the wooden frames.
Never handle, load, or fire a firearm while anyone is down-range. This includes casing, uncasing, cleaning, or adjusting your firearm in any way. Step back from the firing line and away from your firearm.
All firearms are to be unloaded and actions open before anyone goes down-range.
Chamber flags are strongly recommended so all shooters know all firearms on the line are safe.
All shooters using the same range must be on a firing line the same distance from the targets.
No shooting takes place until all shooters are behind the firing line.
Keep firearms pointed in a safe direction at all times.
No cross firing – shoot only at the backstops directly relative to your position.
Shots will be spaced at a reasonable time apart, based on your ability to hit your posted targets. Safe and controlled fire on your target is required; if you cannot keep all rounds on target, SLOW DOWN. SLCFSA strongly recommends spacing rounds approximately 3 seconds apart. Magazine dumps are not allowed.
Before leaving the range, pick up shell casings, remove targets from the backstop, and deposit them in the proper trash containers. If the containers are full, take the trash to the nearest dumpster. Do not place live ammo or duds in the trash cans. Place all unspent rounds in the red dud boxes found at each range.